Are you going hiking?
Here are some great ideas for you to consider – please see our suggested packing list and ideas on how to get started…
You can hike alone or hand-in-hand with someone you love – hiking is for adults, teenagers and children.
Whether you are walking the 825-kilometre Camino pilgrimage in Spain or a much shorter trip, you need to have your basic equipment in order, including a small "carry-along-drug-store-pack". If this is the first time you pack for a longer hike, you may be inspired by the list below.

Packing list for the hike:
Sensible clothing, incl. rainwear, and a little soap for washing clothes by hand.
Basic tools are as follows: blister plasters, insect repellent/insecticide, general plaster, sunscreen, scissors, tweezers, matches, sunglasses, pocket knife and flashlight.
Footwear for an active holiday. In addition to a good pair of hiking boots, you will benefit from wearing a pair of insoles from Align Footwear®. The insoles provide support to the foot by means of the world patented triplanar technology. The insole helps to reduce that we walk « awry », i.e. inward or outward on our feet, and thus relieves pain in the foot, knee, hip, back and neck. Your whole body becomes aligned and therefore less painful and sore. Use the insoles for a period at home before you go on the hike so that your feet have got used to the Align Footwear® insoles and your body correctly aligned (some soreness may occur when you start using the insoles).
Backpack, sleeping bag, toiletries, e.g. sheeting, tents and sleeping bag.
thermos, water bottle, plate, cup, cutlery and perhaps cookware.
Be prepared for the fact that you cannot get through a longer hike without some soreness – perhaps while walking and afterwards. But hiking is worth the effort when you consider what you get out of it – beautiful landscapes, tranquility, wildlife … in short, natural experiences far beyond those most people experience and an escape from the hustle and bustle of everyday life.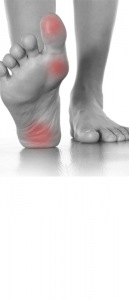 Walking and hiking – how to do it:
Start nice and easily with small day trips. Go for a walk a few hours in the forest or the like in e.g. a hilly terrain if you live close by. You now have a very good idea of what you need in order to go for a long hike, so put on your backpack and remember to pack it – it is a good idea to train with a full bag on your back, so that  you get to some idea of what a longer hike feels like…
Your hiking boots must fit perfectly and feel comfortable. Don't buy them too small because feet tend to swell during the day. Good hiking boots provide support to your ankles.
Dress in layers to make it easier for you to peel off layer by layer before you become too hot and sweaty.
Remember to use blister plasters if necessary and check your foot immediately if you feel any pressure from your shoe or boot.
Try out your equipment – put your tent up in the garden so you are fully aware of how to do it. Putting a tent up in the rain and perhaps in the dark is, at best, frustrating if you've never tried it before.
Remember to check yourself for ticks when you get home. If you have been bitten by a tick, remove it as soon as possible with a tick remover or tweezers. In the weeks that follow, keep an eye on the spot on your skin where you found the tick. If you get a rash or flu-like symptoms, see your doctor immediately.
« Adventure awaits those, who know how to seek it…"
Knud Rasmussen, Danish/Greenlandic polar scientist and explorer